Our Parish
San Francesco Parish, in Clinton Township, Michigan is a personal parish established to serve the Italian community and all people who choose to use its services in lieu of their territorial parish. San Francesco Parish has no geographic boundaries, and all are welcome to come together to worship and grow in faith and love.
MASS TIMES
DAILY: 8am
SATURDAY: 8am and 6pm
SUNDAY: 8am, 10am (Italian), 12pm
Adoration of the Blessed Sacrament every Friday from 8:30 to 12:00 noon with Benediction at 11:50.
First Friday devotions to the Sacred Heart of Jesus and Benediction with the Blessed Sacrament.
First Saturday devotions to the Immaculate Heart of Mary and Benediction with the Blessed Sacrament.
CONFESSIONS
FRIDAY: 6:30pm-7:30pm OR BY APPOINTMENT
BAPTISMS
SUNDAY: 1pm BY APPOINTMENT
MARRIAGES
CALL RECTORY OFFICE AT LEAST 6 MONTHS BEFOREHAND
Link to Detroit Priestly Vocations Website
From Our Pastor, Fr. Dino Vanin, PIME
In Solidarity with our brothers and sisters in Ukraine
In Solidarity with our brothers and sisters in UkraineYou can go to any of the official websites of the following 5 Catholic Charities accepting financial contributions to assist the long-suffering people of Ukraine: Aid to the Church in Need; Caritas Internationalis; The Catholic Near East Welfare Association; Catholic Relief Services; Knights of Columbus.
When Will it Ever End?
You, too, must have lost count of how many times we thought we had turned the corner and were going to put the Covid-19 pandemic behind us as an ugly, scary dream.
We are thoroughly worn out. The toll has been incalculable on all facets of our life. We have all experienced losses on many fronts, emotionally, psychologically, physically, and economically.
Some of us feel helpless because, after two years, no solution seems the right one. Others are thoroughly angry because they firmly believe that politics and lust for control have tainted many of the remedies proposed. Still others, perhaps the majority, are much confused as the purported luminaries who demand docile obedience have fed us contradictory, illogical, and conflicting solutions all proven fruitless or modestly effective, at best.
As your pastor, I feel the urgency to remind myself and all of you that the last two years have not driven us out of the Mystical Body of Christ. We are still one with him, our Lord. It would be totally unbecoming of our Christian dignity to throw our hands up in the air and say: "I give up." We can never lose heart.
Here are some of the statements written by our loving Father with millennia-long divine forethought:
Can a mother forget her infant, be without tenderness for the child of her womb? Even should she forget, I will never forget you. See, upon the palms of my hands I have written your name; Isaiah 49:15-16
And behold, I am with you always, until the end of the age." Matthew 28:20
I will not leave you orphans; I will come to you. John 14:18
"Whoever loves me will keep my word, and my Father will love him, and we will come to him and make our dwelling with him.John 14:23
For I am convinced that neither death, nor life, nor angels, nor principalities, nor present things, nor future things, nor powers, 39nor height, nor depth, nor any other creature will be able to separate us from the love of God in Christ Jesus our Lord. Romans 8:38-39
We have human remedies for Covid-19 and its variants, and we have divine remedies. Any of the statements recorded here should be enough to bring us a degree of inner peace and motivate us to keep carrying out our duties according to our life's calling.
As people chosen before the creation of the world (cf. Ephesians 1:"4) and held in the Father's embrace, we are expected to live through this pandemic owing each other only the debt of love (cf. Romans 13:8).
That debt of love is paid through human touch, sincere caring, mutual support, cheerful forgiveness whenever wronged and humble owning up to our crankiness. After two years of Covid-19, it is getting harder to hide our wounds and we are affected by the wounds of others. But we should find comfort in the fact that our pain is completely and wholly recorded by our heavenly Father:
My wanderings you have noted; are my tears not stored in your vial, recorded in your book? (Psalm 56:9).
None of us really knows when Covid-19 and its variants will be only a blip in the radar of human history. But, as believers, as people living in the Father's embrace, we know that even this devastating pandemic falls completely within the Father's mysterious, often painful plan yet totally unable to separate us from His love.
Fr. Dino Vanin, PIME
Devoted to Breaking Bread in our Church (Acts 2:46)
The Catechism of the Catholic Church has a wonderful definition of the Eucharist: The Eucharist is "the source and summit" of the Christian life. The other Sacraments and, indeed all ecclesiastical ministries and works of the apostolate, are bound up with the Eucharist and are oriented toward it. For in the blessed Eucharist is contained the whole spiritual good of the Church, namely Christ himself, our Pasch. (1324-1327).
The pandemic has revealed those of our parishioners who truly live out this definition by the aching that gripped their hearts during the lockdowns and the intensity of their longing to return to worship in their beloved church of San Francesco so as to ease their hunger for the living Bread.
But the pandemic has also brought to the surface the painful reality that only one third of Catholics believe in the Real Presence of Jesus Christ in the Eucharistic species, i.e., present with his Body and Blood, Soul and Divinity. For them the Eucharist is far from being the 'source and summit' of Christian life. Alas, they might feel lukewarm about the Eucharist and reserve it for the occasional thought that prompts them to set foot inside a church on Christmas Day, Easter Sunday, a few other Sundays and on special occasions such as First Holy Communions, Confirmations, weddings, and funerals. Their body language, more than their actions, denotes a lack of that burning desire that should be visibly displayed by their entire being; this is if they firmly believe in truly becoming divine by assimilating the heavenly food that guarantees genuine believers to live on into eternity, way past their inevitable physical demise.
Let me confess to you all how deeply concerned and troubled I am that the other two thirds of "Catholics", de facto, are not Catholic anymore, because they are missing out on the source and summit of Christian living.
The first of the two most disconcerting signs of apathy towards the Catholic belief in the Eucharist is: having adjusted to a general spiritual malaise of being sinful and weak. Spiritually healthy believers, realizing that their love for Jesus has become tepid, would rush to the Sacrament of Reconciliation. Those who do not believe in the Real Presence of Christ in the Eucharistic species instead go years or even decades without receiving the Sacrament of Reconciliation, because their sinfulness has metastasized. The other disconcerting sign is a loss of craving for the Flesh of our God in Holy Communion. The fire of love for Jesus that once was burning inside has been gradually replaced by tepidness, as they have adjusted to the near flat line of their Christian life.
Hence, tragically, two thirds of nominal Catholics find themselves trapped helplessly in this vicious cycle. Tepid love for Jesus makes them minimize their sins until they find themselves in a deep sinful rut, and they become weaker and weaker. Having become spiritually weak, they still keep "the habit" of going to Holy Communion, but without feeling the urgency of reforming their life and without the burning hunger for the heavenly food that would make them recover their strength and be set ablaze again with love for Jesus. The vicious cycle is only broken by genuine love for Jesus, which is eloquently visible in the Crucified Lord and readily available in the Sacraments of Reconciliation and The Eucharist, in that order.
Fr. Dino Vanin, your very concerned pastor
(Link) Recommended readings: "The Real Presence of Jesus Christ in the Sacrament of the Eucharist." It is found on the website of the United States Conference of Catholic Bishops (USCCB).
For your edification, you might also want to Google "St. Tarcisius;" you will find a variety of narratives about the inspiring feats of faith and courage of this young Christian boy martyred for his love of the Eucharist.
Personal Experiences of God's Sense of Humor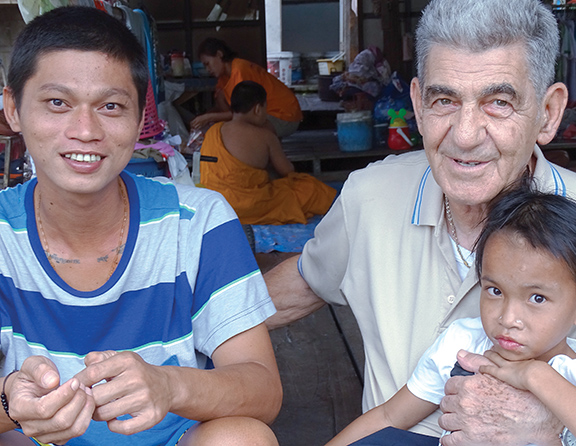 In the February issue of Mondo e Missione (a magazine published by PIME in Italian), I found an article about one of my closest friends, Fr. Adriano Pelosin. We were both eleven-year-old kids when we enter the PIME very "minor" Seminary in Treviso, in September 1957. And ever since, God decreed that the two of us would study and work together for sizable stretches of time so that he would be the motivator and the leader and I the follower, constantly surprised by the results of my daring to follow this intrepid man… Actually, God had already shown his sense of humor through my decision to stay in PIME's seminaries if only to spite my bossy uncle, who wanted me to become an architect for his construction business. In hindsight, it is obvious that my innate shyness could be overcome only by interaction and "psychological osmosis" with a daredevil like Adriano. Had God used a less convincing motivator, I NEVER would have followed Adriano to the United States to study Theology in New Jersey in 1968. Picture, if you will, Adriano daring to exchange with unknown American seminarians the few words of English he knew and me following them like a shadow, absorbing and trying to repeat quietly to myself every new word of a language I did not know at all! For the first year and a half back at the PIME House, our Rector would explain to us in Italian the notes he had taken for us at Darlington Inter-diocesan Seminary. But would you believe that in the second year of Theology, Adriano volunteered to present the historical development of the Liturgy of the Paschal Triduum to the whole class?! I took all the elective courses that he took and, thus, I fell in love with God's Holy Scripture thanks to this incredible spiritual catalyst whom the Lord had put in my life as a fellow seminarian. Naturally, I chose to do apostolic work with Adriano in Patterson, NJ, and anywhere else he chose to do so. I even dared to do my stint as a deacon in the same Black parish in East Orange where he had been. God was constantly pushing me to leave the familiar behind and try new venues, new ways, and new approaches. But, by the end of the fourth year of theology, while Adriano was projecting this image of an audacious "prophet," I chose to remain a mainstream theology student. His priestly ordination chasuble was made of real burlap from potato sacks (imagine the smell) and his chalice had a wrought-iron base made by a local blacksmith. My ordination chasuble had the same pattern as the bishop's but with fewer decorations; and, in its linear simplicity, my chalice can still make a good appearance after 50 years! After ordination, we both worked in PIME houses in the United States but, while I served in different capacities as directed by our superiors, Fr. Adriano was chomping at the bit to be with and to live like the poor in one of PIME's missions. After a period of living like a Buddhist monk for full immersion in Thai culture, he chose to work among the poor, destitute hill tribes in the province of Lampang, Thailand. In many ways, Fr. Adriano's zeal led to excesses and his health suffered because of that. When the Superior General asked me to pick my mission assignment, I confessed to him that I did not like warm, humid climates; but I added that I would have liked to go where Fr. Adriano was… "Excellent choice," the General Superior said, "you will be in the mountains…like being in Switzerland! " When I stepped outside Bangkok's air-conditioned airport I was hit by the most humid, suffocating wave of hot air…"Welcome to Switzerland, Dino" God said with a heavenly grin. Eventually, I wound up in Lampang and I took Fr. Adriano's place as he returned to Italy to recover from his ailments. Those years spent in Northern Thailand were the hardest, most taxing, yet the most rewarding and extremely enriching years of my life, thanks to God's sense of humor and a true friend with courage to spare.
Fr. Dino Vanin, PIME
To reinvigorate your missionary spirit and to feel close to the needy and suffering people of the missions, please go to www.PIMEusa.org or:
Contact the PIME Mission Center via e-mail: info@PIMEusa.org or
Write to U.S. Mission Office 17330 Quincy St. Detroit, MI 48221-2749 or
Subscribe to MISSION WORLD, or
Pick up a copy of MISSION WORLD from the magazine rack in the Vestibule of San Francesco Church.